It's Time to Prioritize Yourself & Find the Balance You Deserve
SAVE TIME. RELEASE STRESS. STAY MOTIVATED.
Welcome to your Online Yoga Community
A monthly membership bringing you a whole range yoga classes and tools helping you to easily build a healthy routine into your day. More than just a space to find balance, this is where you come home to yourself.

TIME & ENERGY
You're busy. We get it. The to-do list is never-ending and finding balance can be a challenge. With Anushia, you no longer do you have to rush to a studio while juggling the demands of your daily life.
You have access to practice according to your schedule in the way that suits you. Simply roll out your mat wherever you are and breathe in a state of peace.

INNER PEACE + BALANCE
You are important. Without filling your own needs, you're left in low energy, frustration, zero motivation. Everything in the Anushia Membership is set up to support you in this. When your needs are met, you can come forward in the best version of yourself. This impacts not only you but everyone around you.
All classes and tools help you create a dependable routine bringing emotional, physical, and spiritual balance.

MOTIVATION & CONSISTENCY
Making changes and sticking to them can be challenging. Consistency is what creates momentum and long-lasting changes.
It's why Anushia is created to make staying motivated easy, fun and rewarding. Whether it's for just 10-min, showing up on your mat with us makes a positive difference that you will instantly feel.
Words from Anushia Member, Aneta
"I have a quick temper and can get frustrated and anxious in a blink of an eye yet practicing yoga makes me feel at peace and in harmony with myself. This is a priceless feeling. I have been more relaxed about life itself and don't take it so seriously anymore.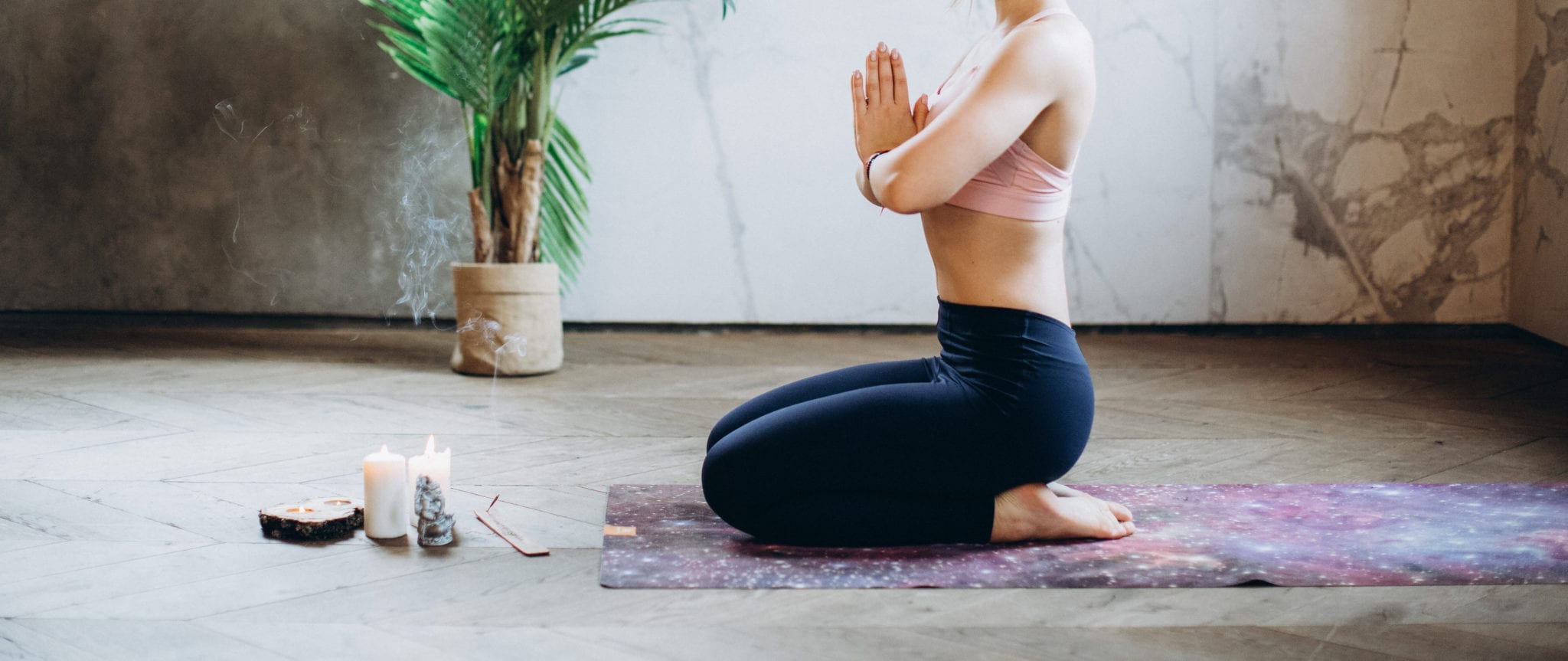 I started practicing yoga over 3 years ago. It was not an obvious choice as I had been for 11 years practicing Pilates. Yoga was far too spiritual discipline for me. I just wanted to work out without any of that "mambo jumbo" (my words that time) I was imagining it to be. But, I was at that time going through a personal crisis. I walked away from a toxic relationship and I was feeling very angry and restless. Something was missing in my life.
Despite an interesting lifestyle, I was miserable. I used to go away every weekend to feel the thrill of escaping my daily routine and myself in a way. Some of my close friends who practiced yoga were nudging me to give it a try. And on a January day,  I decided to register for a class. It was a challenge but I felt intrigued and decided to stick to a twice-a-week routine. The day I had my first class with Jessica (several months after), I knew I found that unique connection and that she was the teacher I was looking for. I can be very disciplined in my practice but I need to be pushed and at the same time be reassured. I always laugh that Jessica is this lovely boot camp sergeant. 😉 She succeeds in pampering her students and at the same time motivating us to go that step further.
To be brave to get out of that comfort zone at a physical and mental level. At the same time, giving so much positive energy that at least in my case I feel my wings grow.
I have been practicing at Anushia Studio from the beginning, witnessing its progress. That space feels like home to me. And, since we are all home confined, I have been so happy to have that opportunity to practice at home. I can do it now every second day without the stress of leaving the office in a timely manner to get to the studio on time. This is bliss.
I confirm that I am now one happy yoga convert. :)"
– Aneta, Luxembourg
Struggle to find time for yourself?
PRACTICE ON DEMAND ANYTIME, ANYWHERE
Anushia is here to help you show up and prioritize yourself regardless of your schedule. Take a 30-minute Wake-Up Flow or dive into the Private Lesson Series where you'll be taught the step-by-step breakdown of each posture with variations for different bodies. Discover sneak previews below.

YOGA FOR EVERY BODY
You're not here to try to force or push yourself to squeeze into any practice. Instead, we help you adapt the practice to fit to you. We believe every body is unique and no one body is the same.
Classes are taught with this in mind to help you grow and expand in your practice. You will feel deeply supported every step of the way.

MINDFULNESS CENTERED
We believe yoga is less about getting into the perfect headstand and more about deepening connection to the mind, body and soul.
You will learn to be more present in each moment, safely process emotions and better handle whatever life throws at you. This has a positive impact not only on the relationship with yourself but also with everyone around you.

BALANCE
Our teachings are all about helping you find balance in your body. You will build inner and outer strength throughout classes but equally train the mind to be centered & grounded.
One moment you might feel challenged in a plank and the next in complete bliss savasana. It's this harmony that helps you to see just how powerful you really are.

FREEDOM
Everything you'll experience at Anushia is created to bring you more freedom. We understand just how busy life can get and our intention is to bring more ease into your day, everyday.
From the moment you step onto your mat, we are here to instantly guide you into the connection with yourself. It's there that you can let go of any heaviness and tune into what's really important – YOU.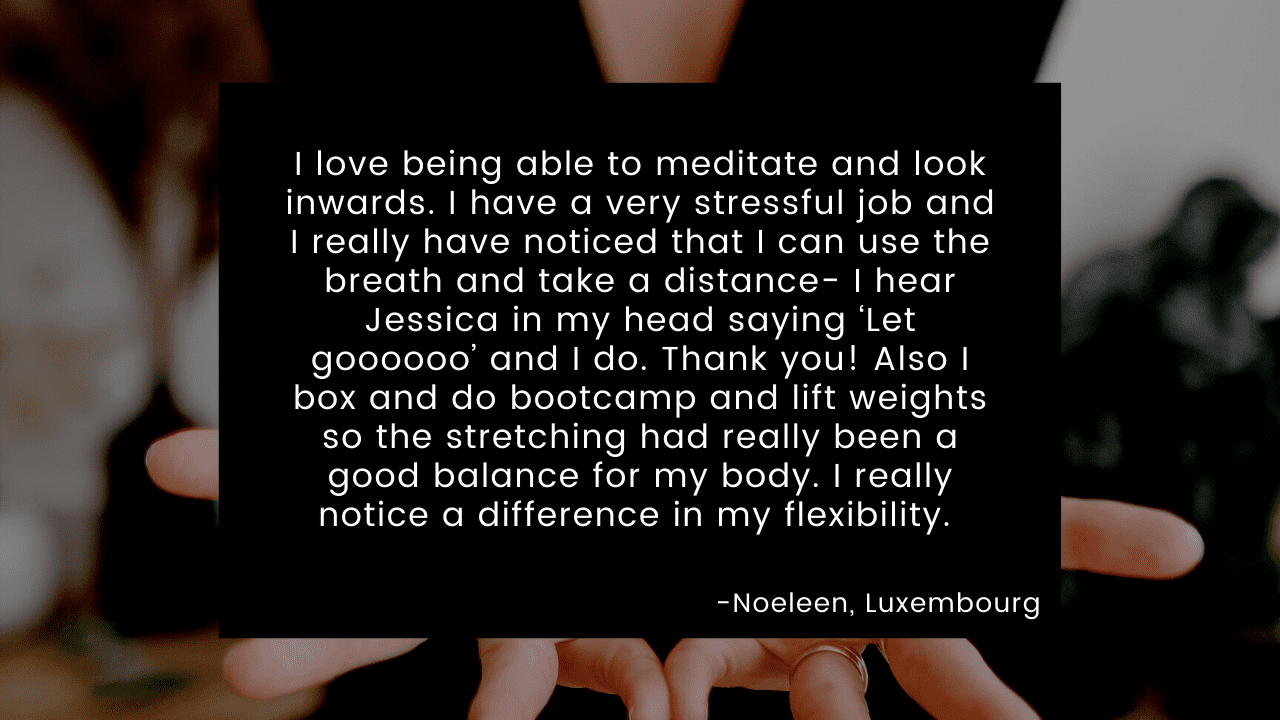 This is the time where we can lose track of self-care routines, which can feel like we need another holiday after the holiday.
Take Anushia with you everywhere to keep your balance regardless of the environment.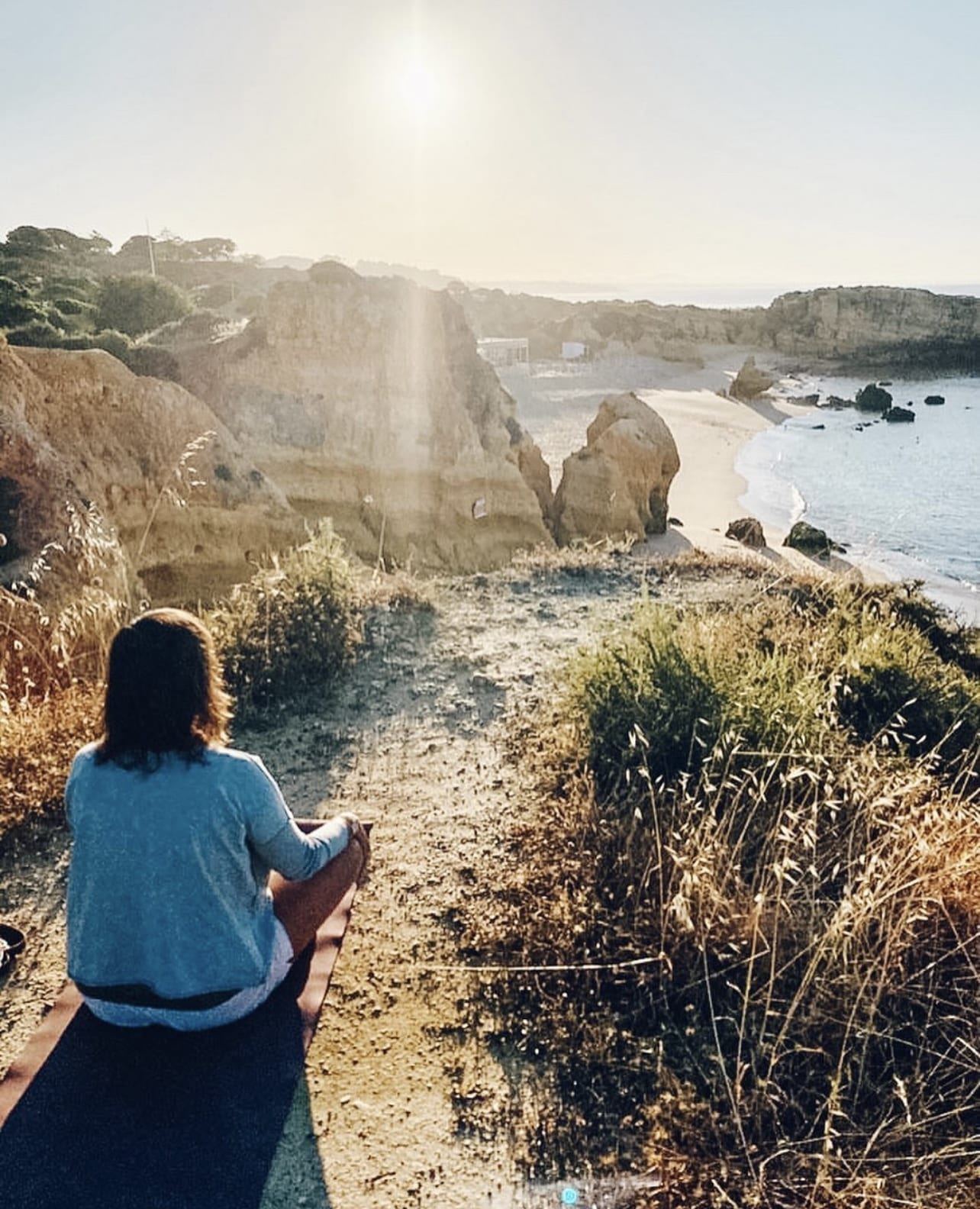 *Anushia Member, Lorella taking Anushia meditations with her to Portugal.
Words from Anushia Member, Marion
" I was surprised by how quiet and peaceful I was afterward."
When I first joined one of the Digital Studio classes, my first « instinctive » reaction was to shut my camera off. I was thinking I was joining for the practice only, no image or sound share needed. I very quickly realized I was wrong, and turned my camera on.
When the lockdown started, I was feeling anxious and nervous about being apart from my family and friends, and being able to feel this group energy was (and still is) not only comforting but also encouraging.
Acknowledging that we are all in this together; that we are all facing the same challenging times but that we can go through these as a united community really brought me relief and optimism. I haven't had the chance yet to join all the proposed classes, but I truly enjoyed the ones I've joined.
My favorite type of practice is Vinyasa or Power Flow.
I love the fact that they are physically challenging and yet non-aggressive. I love flowing through a dynamic sequence, feeling my whole body engaged, and focusing on my breath. As a firey person, I tended to reject yin or restorative classes. Having recently more time at home, I decided to give it a try. I was surprised by how quiet and peaceful I was afterward. I now realize, and accept, that sometimes my body needs more « slow down », and gentle moves. Although it is not always easy (I have the habit to rush in my days and always « push » myself), I've decided to try to better listen to my mind and body needs."
– Marion, USA
Your body. Your breath. Your practice.
Choose a class depending on what you need each day.
Rather than forcing yourself to fit into a class, take a class to fit exactly what you need.
Click the drop-down boxes below to find out more about a few of the different class styles.
Meditation
Meditation is a powerful technique to train attention and awareness. This class is designed to bring your mind peace, clarity and focus, which ripples out into your day-to-day life.
Yoga Flow
Yoga Flow is designed for you to feel connected and centered.
In this class, you will be guided through a yoga sequence to release any tension in the body and bring clarity into the mind. It is a well-rounded practice perfect at any time of the day.
Power Flow
Power Flow is designed to strengthen the body and unleash your inner power.
In this class, you will be guided through a dynamic sequence that will leave you feeling energized and free, resulting in the perfect reset. Be prepared to smile, sweat and let go.
Balance Flow
Balance Flow is designed to harmonize the mind, body and soul. It is the culmination of all classes, infusing movement and mindfulness together.
In this class, you will be guided through a yoga flow to unwind the body followed by a restorative practice to leave you into a state of inner peace, allowing you to experience the best of both worlds.
Calm + Restore
Calm + Restore is designed to bring the body and mind into a peaceful state allowing full restoration.
In this class, you'll be guided through meditation and postures to slow down. Rather than putting in effort to achieve more, the intention is to use the breathe to connect deeper into self-awareness. The combination results in a deep relaxation and opening in the body's connective tissue.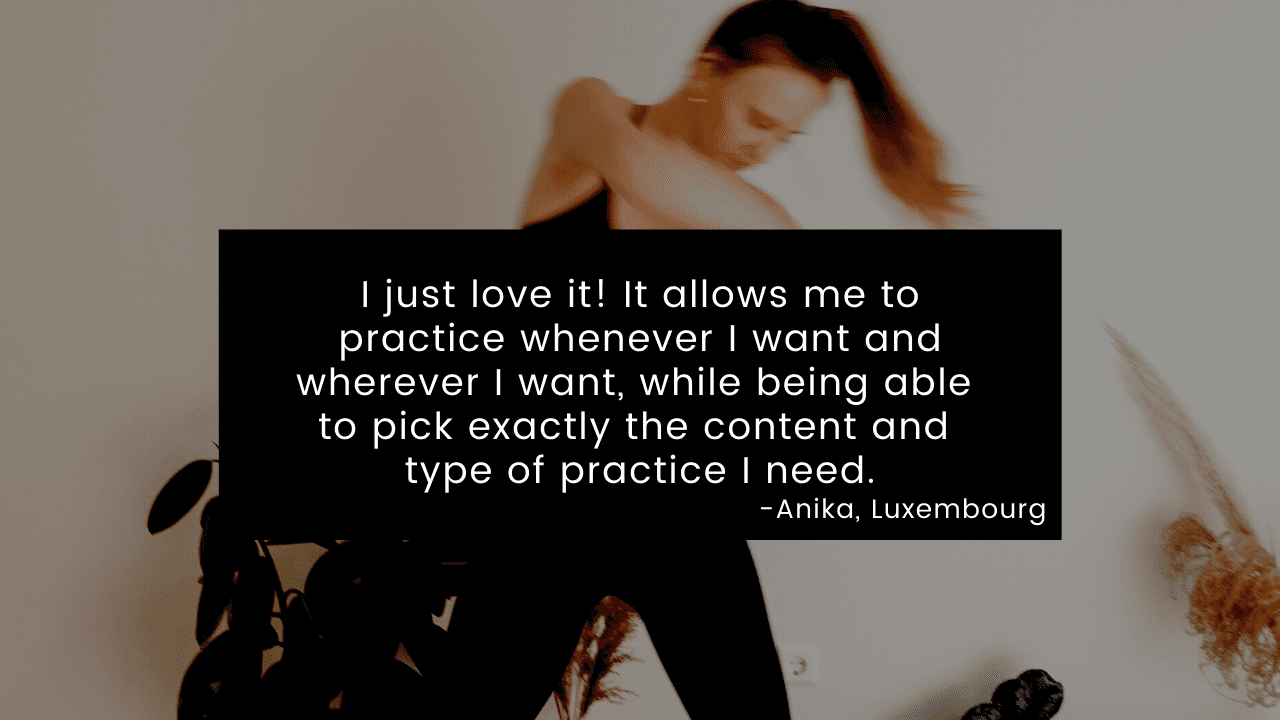 What's Included
in the Membership

Monthly Live Zoom Class (first Monday of each month @ 19h CET) with Jessica
Over 1,000 hours of On Demand content to practice anytime, anywhere
Variety of different class styles to choose from
10, 15 30, 45, 60, & 90-min classes designed to easily develop a healthy structure into your day
'Welcome to Yoga' workshop
'Finding Time For Yourself When You Have No Time' workshop
'Breathwork: Your Key to Calm' workshop
'Journaling 101: How to Identify & Express What Matters To You' workshop
'Release Stress through Journaling' workshop
Your Ultimate Guide for Yoga at Home (PDF)
EACH MEMBERSHIP OPTION AUTOMATICALLY INCLUDES A 5-DAY FREE TRIAL
*BEST VALUE
Annual Membership (savings of 84€)

less than 1.2€ per day
MOST FLEXIBLE
Monthly Membership

flow month by month
Each Membership automatically includes a no-obligation free 5-day trial. After trial, your paid subscription will begin and Membership will automatically renew. Cancel anytime, no questions asked.
What Our Members Are Saying
Opening the Anushia portal is a feeling of coming home for me: coming home to myself, my body, and a wonderful community. Each time I feel like I find exactly what I need, even when I didn't realize what that was. Some days it's feeling the energy of moving my body, other days it's finding center and focus. The next day, it might be self-love or connecting to my breath.
Jessica's classes are infused with all these elements. She gives gentle and funny reminders of life lessons throughout the class, which I get to apply immediately in how I move and treat my body. After class, I feel like I didn't just strengthen my body, but also my mind and my heart. All three are learning and growing together.
Overall, whatever is going on in my life, looking forward to taking a class later in the day or the next morning, brings me peace and a feeling of joy and connection. Thank you!
– Annelies, Belgium
My first class with Jessica was completely random. After a long and particularly stressful day at the office, I was surprised by a new face at the studio and a familiar midwestern (USA) accent as the opening meditation started. She had a special subtlety and calmness which welcomed everyone into the room and helped me let go of the day and focus on the now, in that room, on the mat.
The vinyasa flow was physically intense and challenging, but Jessica's positive and fun disposition motivated everyone, often personally, to do their best and "show up". The experience made me like yoga even more, and I regularly attended Jessica's after-work and semi-private classes whenever possible. As the transition to the digital studio took place, I was not convinced of anything close to the physical studio experience would be possible.
The corrections, the personal feedback, and motivation, the group energy, the tea… How was all of that going to happen digitally? After participating in some digital classes, my opinion was changing. The way Jessica and the other teachers engage with the participants, providing direct feedback and motivation while also encouraging the whole group creates a very personal experience.
The key to increasing the personalization is turning on your camera so they can see you🙂 ..this is something I was not so sure about at first, but it made quite a difference. The group dynamic and energy also comes through as you see the rest of the class doing the same practice providing a feeling of community. The only thing which cannot be done digitally is the tea ..not yet anyway!😂
– Daniel, USA